Covid-19
ADVANAGE Nemesis Disinfectant

The fastest COVID-19 contact kill time in the market.

The United States Environmental Protection Agency has certified that ADVANAGE Nemesis Disinfectant has a COVID-19 contact kill time of 1 Minute. This is the fastest COVID-19 kill time the USEPA has approved to date.

Disinfectant Four Pack
A one-step, non-acid germicidal, spray-and-wipe disinfectant. On the American Chemistry's list of EPA approved disinfectants for use during the COVID-19 outbreak.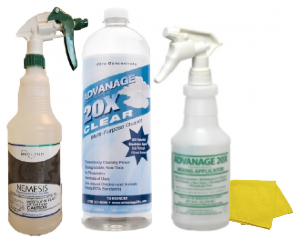 COVID-19 Safe-Surface Pack
Take sanatation in your home or office to new levels with our all-in-one, easy-to-use pack. First use 20x with our microfiber cloths to properly clean all high-touch surfaces. Then spray with our COVID-19 Disinfectant.