Covid-19
Dear Customer,

Thank you for your business during these trying times. Our Advanage 20X and disinfectant will help keep you safe (see Summer Special).


Nathan T Edwards, Founder and CEO, ADVANAGE Diversified Products, Inc.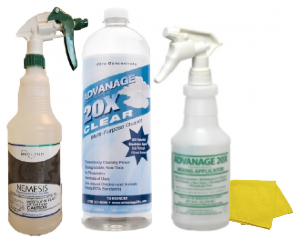 COVID-19 Safe-Surface Pack
Take sanatation in your home or office to new levels with our all-in-one, easy-to-use pack. First use 20x with our microfiber cloths to properly clean all high-touch surfaces. Then spray with our COVID-19 Disinfectant.

Disinfectant Four Pack
A one-step, non-acid germicidal, spray-and-wipe disinfectant. On the American Chemistry's list of EPA approved disinfectants for use during the COVID-19 outbreak.

ADVANAGE is eco friendly.
Non-toxic, Biodegradable, Phosphate free.
See Videos on how to use ADVANAGE to clean just about everything.