About Advanage Diversified Products
Located in Harvey, IL, we manufacture and market ADVANAGE The Wonder Cleaner. Our success is based on three ingredients-- a great product, loyal customers and motivated sales people. Click on
DOOR TO DOOR SELLING
for Advanage Diversified's Products, Inc., Founder and President, Nathan T. Edwards thoughts on Door to Door Selling.
Products.
By a great cleaning product, we mean more than just a product that out performs the competition. ADVANAGE 20X is phosphate free and safe for the environment. Add to that affordable—one quart of ultra-concentrated ADVANAGE 20X makes 20 quarts of ready-to-use cleaner—and you can see why ADVANAGE 20X is such a best seller.
Social Contribution.
Our social purpose has never wavered. We provide jobs for young Americans who come from the underprivileged neighborhoods of America. They have an opportunity to build a career. No college degree or high school diploma needed. Just a willingness to get off the streets, work hard and make some money.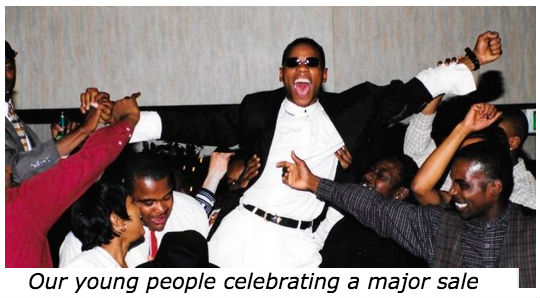 Sales People.
None, of this success however, would have ever been possible without the young ADVANAGE 20X sales people who, in rain or shine, go knocking and sell our products all over America. They are what our products are really all about—helping young people, from the inner cities of America, learn discipline, learn how to cope with life's uncertainties, and learn how to make a living.
Advanage Jobs
---
Finding Jobs for so-called "Unemployable" Young and Jobless Americans.
Our company, is conjunction with our non-profit 501c3 Advanage Foundation, has created a program in which we are committing to finding jobs for young Americans living in the impoverished communities of America's inner cities.


"My wife bought this from a guy who knocked on our door. We were both extremely dubious, but she now swears by the product… takes her 10% of the time vs other cleaners. I know this sounds too good to be true but it is." - Artsygirl 71"AG", Texas